RotoFlex®
Get up with the RotoFlex® - A step towards Independence
The RotoFlex® is an innovative nursing bed that has been developed to improve the quality of life, independence, comfort and mobility of patients. It allows those affected to get up without the help of others - independence is thus maintained and the abandonment of the familiar environment is avoided.

The RotoFlex® fulfils all the functions of a fully-fledged nursing bed. It is free-standing, stable and level. The rising bed is optionally available for left or right rotation.
Leaving the bed means conquering an invisible barrier for people with restricted mobility. This could previously only be managed with outside help.The RotoFlex® overcomes the hurdle which forces the affected person to lie in bed and blocks access to the outside of the bed.
Different versions of the RotoFlex®
RotoFlex® P as a free-standing nursing bed and RotoFlex® E in the domestic double bed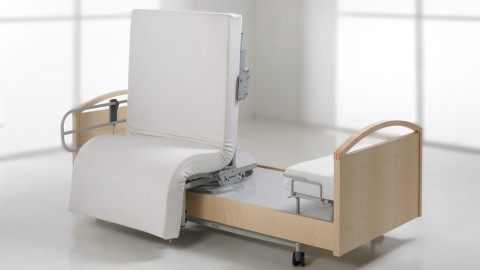 The RotoFlex® P is available as a free-standing nursing bed with variable length, width, seat depth, access height and central braking or standard casters.
The RotoFlex® E can be integrated as a built-in bed in place of the existing slatted frame into a domestic single or double bed. Visually, the RotoFlex® E scarcely differs from a commercial bed. Dimensions variable as for the P-model.
The RotoFlex® P 250 and the RotoFlex® P 300 are wider than the standard variant. The additional installed motor gives the reinforced construction more power. The RotoFlex® P 250 and the RotoFlex® P 300 are available at a width of between one metre and 1.20 metres and provide enough space for persons between 200 and 250 kilograms.
The RotoFlex® LOW is also suitable for small people due to its low lying surface height. In the lowest position, the bed surface is only 32 cm from the floor - so small people can sit comfortably and safely reach the ground when standing up with their feet. The RotoFlex® LOW Is designed in such a way that it can be easily disassembled and transported.
The RotoCare® LOW Is accessible for lifters and designed in such a way that it can be disassembled and transported particularly easily.
Individual Customisations
As required, the RotoFlex® is available in various designs and special designs - the specific requirements for equipment and optics can be implemented individually. It can be enhanced with additional accessories such as bed barriers, trapeze bars, alternating pressure mattress, etc., can be extended as desired and thus adapted to the specific requirements of the patient.
Request now